Learn Affiliate Marketing from One of Our Top Affiliates!

Posted on 30-07-2019 by Wouter Groenewoud
Do you feel stuck in your journey to financial freedom as an affiliate marketeer? Traffic Company thinks it's important to connect affiliates in order to exchange knowledge and help each other growing as a Media Buyer, so we partnered with the private community of "DEADZ Media Lab" to help you reach your goals.

Darnel has a long history in affiliate marketing and is one of our top affiliates of the past years. With more than 10 years of experience in affiliate marketing and running 5-figure revenue/month media buying campaigns, he has some valuable information to share. DEADZ has been teaching and guiding affiliates and marketers for many years now and is sharing a lot of his strategies with his community for free in "DEADZ Media Lab". We sat down with DEADZ for a Q&A about his experience as a media buyer, which you can read below.
---
Hey DEADZ, how did you get into Affiliate Marketing?
I got into Affiliate Marketing when I was 19 years old, mainly because I was always struggling with the idea of (ever) finding a job sooner or later. It's just something that I never wanted to do and I never had to get one either, thanks to internet marketing. At first, it started with a simple google search of "how to make money online" which led to a lot of wasted money on courses, ebooks, private forums and scams. After years of struggling to make something work, I finally achieved some success with social media automation. And from there I got into media buying and fell in love with it.

What is your biggest success?
So far I've had a few consistent months of doing 5 figures in revenue with my media buying campaigns. But I still consider my biggest success to be being able to help others achieve the same results (and in some cases even more) with their own campaigns.

Why did you start tutoring after many years of media buying?
Having my own media buying team never seemed like an option for me as I work better alone when it comes to my own campaigns. So I got the idea to make some kind of "virtual" media buying team. This is how my media lab was born. A very private community where I can be very transparent with my strategies. At the time I was already used to writing pdf-guides (not about media buying) and the results people were having with my old guides was motivational enough for me to decide to do the same for media buying.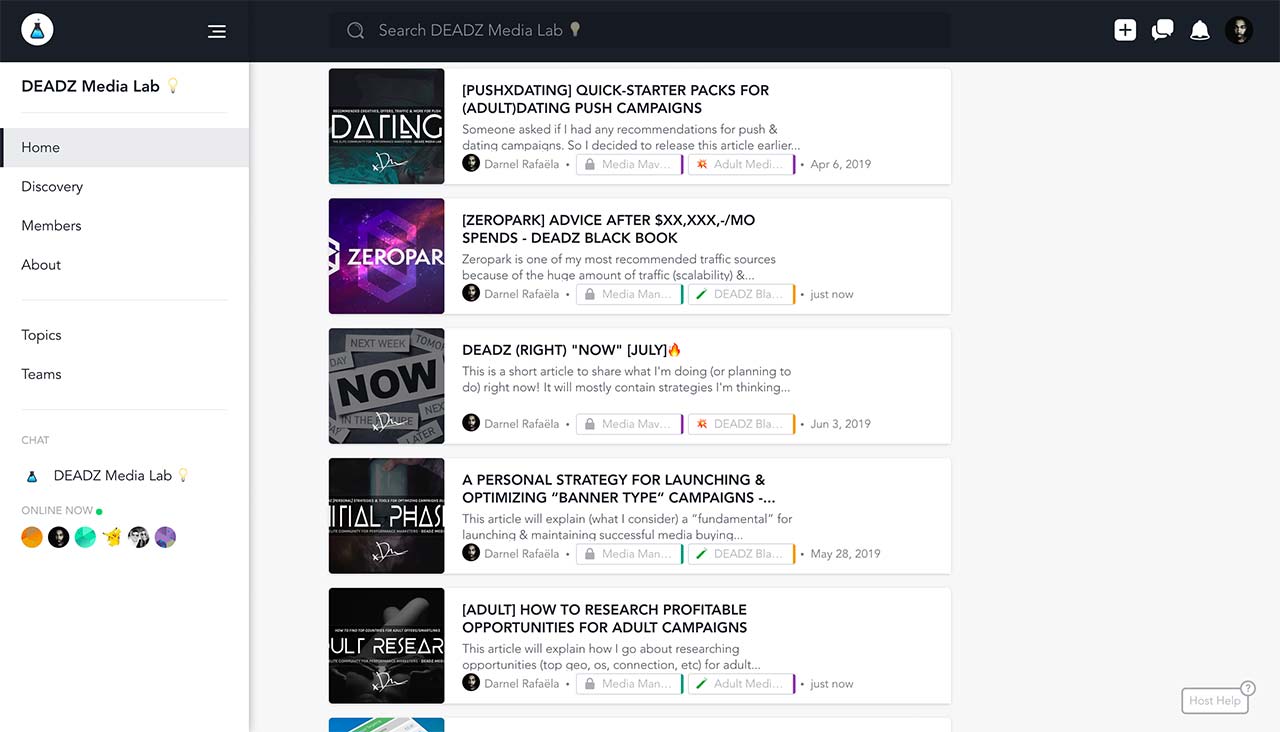 DEADZ media lab was born out of the idea to make some kind of "virtual" media buying team
Tell us in short how The Media Lab works..
Everyone has free access to a few "preview" articles: one with recommended resources for getting started, and 2 other articles with specific strategies for running some specific offers with push traffic (creatives for the campaigns are included) and how to run offers with Traffic Company as well. I also give free support on the strategies mentioned in those articles. My whole aim with the media lab is to accelerate the whole media buying process by recommending specific top performing offers, only networks that I can guarantee an amazing experience, traffic sources that are converting the best, creatives for campaigns, my personal strategies & advice, and much more.
There are also 3 private teams inside the Media Lab. These require a monthly payment through Patreon (or Paypal) in order to get access to the content. I post my more advanced strategies & recommendations inside these private teams. We also have quite a few private team members with a lot of experience who are also doing 4-5 figures a month here. This low fee makes sure the community has only serious and dedicated members willing to learn.

Sounds cool! So what is the benefit for paying members?
Of course there are some huge benefits for paying members. Paying members get:
Access to a very private community of experienced & helpful media buyers.
Monthly updated strategies/guides on how to research, launch and optimize campaigns based on of my own current strategies.
Un-biased recommendations for Networks, Traffic Sources & Services. Including exclusive "DEADZ" deals & VIP treatment from these Networks, Traffic Sources & Services.
Daily support via Live-chat inside the Media Lab.
Access to a live group chat inside the media lab & discord. They also get access to private discord channels, filled with more information from during the "beta phase" of the media lab.
How can affiliates contact you for more information?
There's a live chat inside the media lab, people can always send me a message there. I can also be reached via Skype: twotnwo.
---
Do you need help to get your Affiliate Marketing skills to the next level? Or are you looking for alternative strategies to get your game up? Join & check DEADZ Media Lab out for Free!