Traffic Company Presents Click-to-Call Offers
Posted on 09-01-2020 by Wouter Groenewoud
After months of testing and optimizing we proudly present our new in-house IVR (Interactive Voice Response) technology: Click-to-Call. We have already launched these 1-Click-Flow Offers in more than 20 countries worldwide. Click-to-Call Offers are mostly based on sweepstakes, which you can promote in many different ways. The most common angle is to win a prize like an iPhone, Playstation, drone, headphones etc. Next to our sweepstake angle, we also have live chat-angles where users are able to have a live chat with a chat-operator. 


---
Join This New Party!




During the soft launch, the huge potential already showed itself with conversion rates climbing up to 7% for quality sources. For each country, we have a specific Click-to-Call offer available, which will convert perfectly on all mobile carriers and WiFi.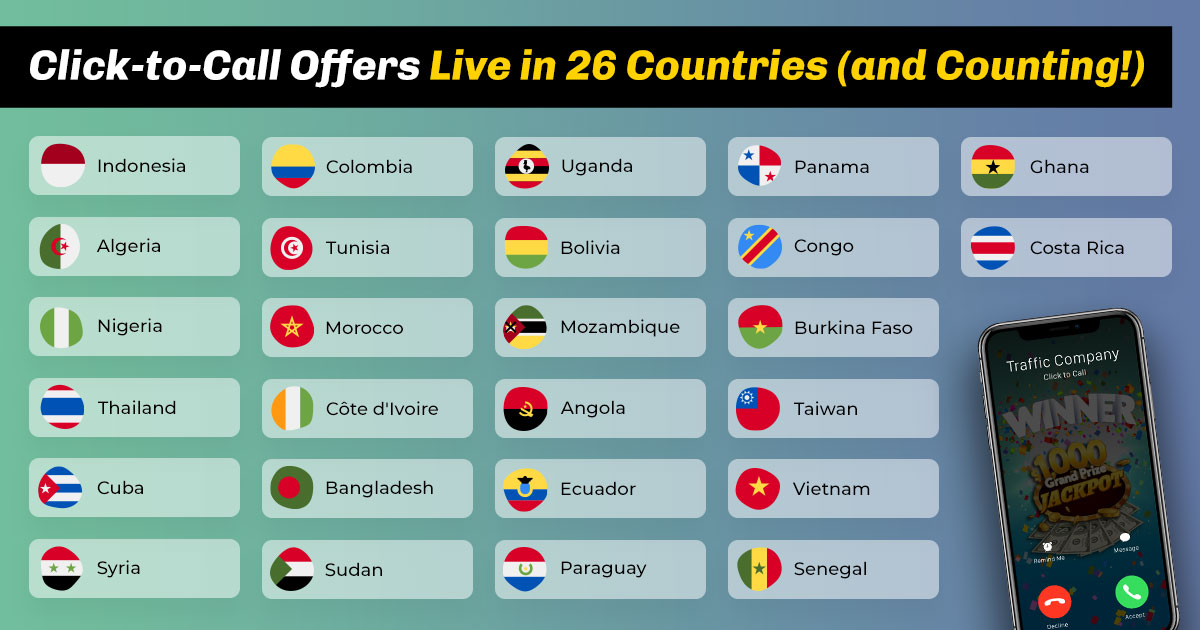 Click-to-Call offers live in 26 countries (and counting!)
*Performance and new opportunities can change rapidly. We advise you to contact your Account Manager before starting any promotion. We also have an API available which updates every 15 min. Click here to join our Telegram group for the latest daily updates about our Click-to-Call Offers.

How to Promote Click-to-Call Offers?

During our tests we have used several traffic sources for our Click-to-Call Offers; pop-under traffic, push traffic and social traffic. Pop-under traffic is cheap, easy to set up and scale, but conversion rates and quality are very low. Push traffic is more expensive than pop-under traffic, but conversion rates and quality are much higher. Finally, we tested social traffic, which is easy to use and more precise to target which improves your results immediately. Therefore we have come to the conclusion push traffic and social traffic are the best sources for our Click-to-Call Offers.
When working with push traffic we can imagine it's not always easy to create text in a foreign language. If needed we can assist you with translations for banners and prelanders. Furthermore, there are some nice spy-tools available in the market which you can use for inspiration.
A great advantage of our new Click-to-Call offers is the exclusion of bots. Bot traffic will never convert on these offers because we need real users to initiate the call to generate any conversion. We all want to maximize our ROI (Return on Investment) and therefore it's very important to make several split tests between different prelanders and different types of traffic sources. For more information about translations, available prelanders and all other questions related to our Click-to-Call Offers you can contact your Account Manager directly.
Work Fully Automated with Our Api Connection!

It is possible to connect and scale campaigns by using our API. This way you can keep track of the eCPM (effective cost per mille) per carrier and you can check the performance 24/7. When set up properly you can let the API do all the work by activating and deactivating your campaigns when needed. The API is refreshed with an interval of 15 minutes and can be accessed with the following url:
https://www.trafficcompany.com/feed/ivr-carrier-performance?access-token=%ACCESS_TOKEN%&format=json
Replace the %ACCESS_TOKEN% placeholder with your personal API key that you can find in your
account settings
. You can also change the format to either 'csv', 'json' or 'xml'. Automating you campaigns this way will greatly improve your results for Click-to-Call campaigns! Ask your Account Manager for help with setting things up.
Not able to automate your campaigns? No worries, you can also check out the Live Click to Call Performance on the TC Dashboard.
Restrictions? Caps? NONE


Because of the flexible nature of our Click-to-Call offers, you can test various prelanders and try different angles as much as you'd like, which may be the best part of this great new technology. Custom pages are also available on our side, just contact your Account Manager and we can set this up for you. Last but not least: we don't work with caps. When you have found the perfect mix of traffic sources, prelanders and offers, we will not hold you down and you can go full force!
We truly believe this is a huge game-changer in the market, so make sure you're part of the success of these new in-house developed Click-to-Call offers!